Low Dose Lung Cancer Screenings
2023 Sepsis Honor Roll Participant
Looking for a new career?
Your Health Is Our Top Priority
LEARN MORE ABOUT YOUR HOSPITAL IN WINNFIELD, LA
Winn Parish Medical Center was founded in 1948 by three physicians who shared a common goal: to provide compassionate and complete wellness and health services to the people of Winn Parish and the surrounding area. Over the years, we've expanded our hospital in Winnfield, LA, and we've made a few other changes along the way, including:
Winn Parish Medical Center works cooperatively with local healthcare providers, businesses, schools, churches and organizations to address community healthcare needs, and to provide a continuum of care which is beneficial in the healing process. We strive to provide an atmosphere of respect, love, caring, compassion and excellence to those we serve.
Online Bill Pay
View or pay your bill online any time.
The Cardiopulmonary Department at Winn Parish Medical Center is headed be a registered Respiratory Therapist. The staff is comprised of Registered and Certified Respiratory Therapist. Therapeutic services are available 7 days a week, 24 hours a day. What are...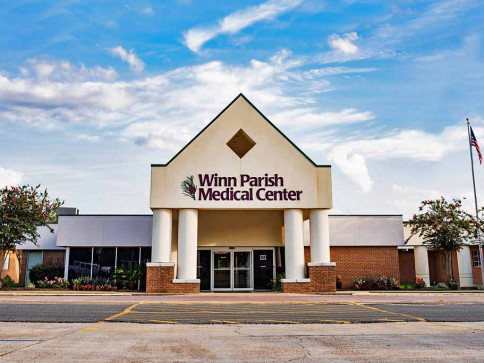 Our hospital was founded in 1948 by three physicians with a solid commitment to the well-being of the people of Winn Parish and the surrounding region. Those physicians were: Dr. John McElwee, Dr. George Rodgers and Dr. John T. Mosley.
At that time, Winn Parish Medical Center had 30 beds, an operating room, a delivery room and x-ray and laboratory services. It was the only hospital within a 50 mile radius of Winnfield. In 1963, an addition was made to the existing hospital with 24 private rooms being added as well as a new laboratory and dietary department. Two years later, expansion was needed again. This included enlarging business offices, adding a medical records office, a new delivery room, labor rooms, recovery rooms, a doctor's lounge, and a second emergency room. In 1972, construction began on a new administrative wing and a two story addition which included a new lab, x-ray room, operating room, pharmacy, physical therapy section, a coronary care unit and additional patient rooms. While over the years more physical ground changes have been made and names, faces, titles, technology, expectations and clinical outcomes have changed, our same solid commitment still remains.
Winnfield and Winn Parish have a long and fascinating history. Native Americans called this area their home over a thousand years ago. Both Spanish and French soldiers explored the rolling hills. Several Civil War battles were fought here and outlaws were known to shoot it out with brave settlers traveling westward. A number of Winnfield residents have gained national prominence in all walks of life and three in particular served as Governor of Louisiana – Huey P. Long, Earl K. Long and O.K. Allen.